Creative script ideas.


Straight to the point.

Spoken and written language are two different things. Spoken language is processed in short-term memory which is why texts for messages have to be differently formulated than, for example, a brochure or web site.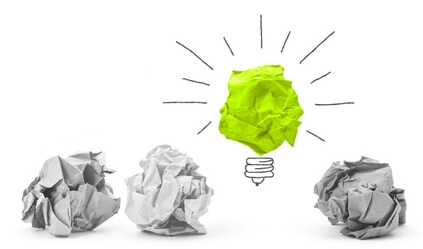 Short sentences and simple language make it easier for the listener to follow. They can't return to the beginning of the sentence and may only stay on the line for a few seconds. So, the message has to be clear from the first second on.
Let our script designers help you. Our people are real word acrobats and juggle the words so that your message comes across loud and clear. The right words in the right place to convey the right message. It goes without saying that we'll work closely with you to get the right measure. After all, customised production is like a tailor-made suit – everything has to fit.
If you've already got your own script, we'll help you fine tune it. We'll provide you with ideas and suggestions and assist you in making your text sound much smoother – give it the finishing touches. Your chosen voice talent won't stumble over awkward wording and your messages will have the impact you want.
The result: a perfectly polished text, pleasant to listen to, and straight to the point. Texts that make sense and enhance your brand. Fresh ideas and the right words with just the right creative touch. Communication in tune with the times.
A mere 3 steps and your script will just roll off the tongue.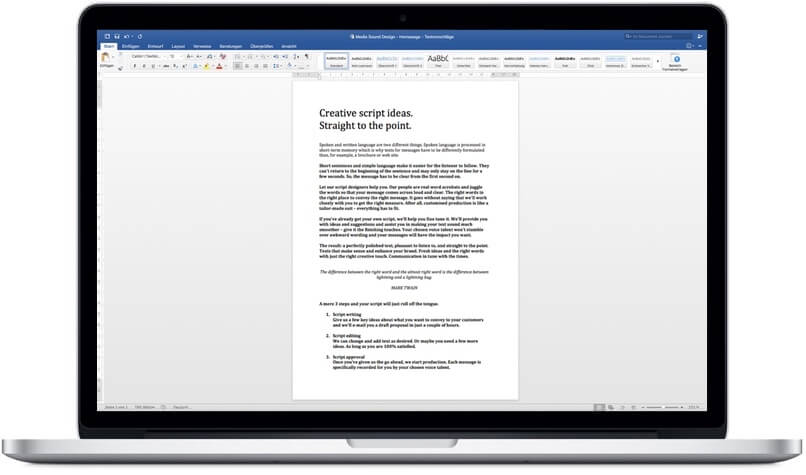 Script writing.
Give us a few key ideas about what you want to convey to your customers and we'll e-mail you a draft proposal in just a couple of hours.
Script editing.
We can change and add text as desired. Or maybe you need a few more ideas. As long as you are 100% satisfied.
Script approval.
Once you've given us the go ahead, we start production. Each message is specifically recorded for you by your chosen voice talent.