Got more lines


than hands free?

Sounds familiar? You call a company and the phone rings and rings and rings - and no one answers. You start asking yourself if you dialled the right number or if there is some kind of local holiday or whether the company actually wants your business.
An automatic greeting is the first thing callers hear when they call your business – even when all lines are engaged. Let your customers know you care. Demonstrate your company's professionality and speed directly on the phone. This way, no callers are left standing on your "telephone" door step. Remember, callers are customers or future customers.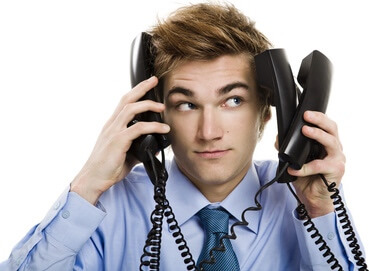 The caller immediately know they have reached the right number and only have a short wait until someone will assist them. Customers don't get a busy signal and won't hang up frustrated. This is guaranteed to improve the customers' experience and give them a positive first impression of your business – right from the start. It's as if you answered the phone personally.
You only make business if customers can reach you!
One missed call may cost you 100 $, 1,000 $ – due to lost follow-up purchases even 10,000 $.
You can be sure that with a welcome greeting, the caller will not hang up immediately. Or go to a competitor.
Interactive voice response -


Assistance at your finger tips.

Interactive voice response allows customers to reach the desired department on their own via the telephone keypad. A great advantage for everyone! Your reception doesn't have to deal with routine call transfers while callers don't have to wait unnecessarily in a queue.
Special requests and matters such as orders can be prioritised or shared with an external service-provider. This way, calls requiring specific customer advice remain in the company with trained staff while simple enquires or calls asking about an order status can be forwarded to a service centre.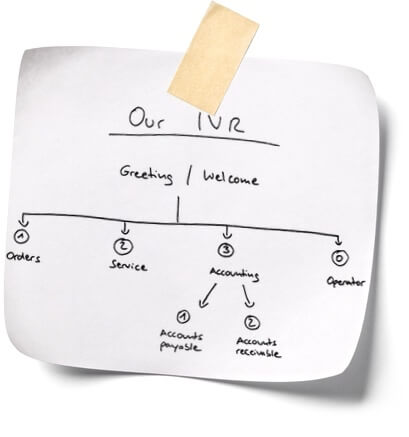 Roll out the red carpet for your callers!
professional impression
quick call response
friendly greeting
rule out competition
no missed calls
improved reachability
pleasant image
positive customer experience
Ihre persönliche Begrüßungsansage.
Auf Wunsch schon morgen fertig.
inkl. Texterstellung
inkl. freie Auswahl aus Stimme
inkl. freie Auswahl aus Musik
inkl. Aufnahme im Studio
inkl. Schnitt, Abmischen, Mastering
inkl. Konvertierung für Ihr Telefonsystem
inkl. zeitlich unbegrenzte Nutzungsrechte
GEMA-Freiheit / keine Folgekosten
€
153,51
einmalig, inkl. 19% MwSt.